$18.99
NZD
Category: Children's fiction
Across the Risen Sea is an action-packed, compelling and heartfelt middle-fiction adventure, set in a post-climate change landscape, from the multi-award winning author of How to Bee. 'It's one of them days when everything is off. A hot sweaty night in Rusty Bus means we kids is all grouchy-tired. Me a nd my best friend, Jaguar, is trying to cool down by taking turns at dipping in the sea pool. Him standing on the sea wall made from car frames and rocks on lookout for crocs, me swimming, then we'll swap places. We's always doing things as a team, him and me. We's gonna be the best fisher people and the best salvagers on the whole of the inland sea one day.' Neoma and Jag and their small community are 'living gentle lives' on high ground surrounded by the risen sea that has caused widespread devastation. When strangers from the Valley of the Sun arrive unannounced, the friends find themselves drawn into a web of secrecy and lies that endangers the way of life of their entire community. Soon daring, loyal Neoma must set off on a solo mission across the risen sea, determined to rescue her best friend and find the truth that will save her village.Across the Risen Sea is another thrilling adventure for young readers from the bestselling author of How to Bee and The Dog Runner. ...Show more
Slime
by David Walliams
$22.99
NZD
Category: Children's fiction
 Welcome to the Isle of Mulch! Home to a large number of awful adults who like nothing more than making children miserable. And the island is owned by the most awful one of all – Aunt Greta Greed! Something needs to be done about them. But who could be brave enough? Meet Ned! Ned has lived on Mulch all his life and whilst trying to get his own back on his trickster sister, Jemima, he discovers one of the great mysteries of the world – slime! What is it? Who is it? Where does it come from? And how does Ned use slimepower to take on the horrible grown-ups of Mulch? ...Show more
$20.00
NZD
Category: Children's fiction
Baboon LOVES having his butt out! How cheeky! What happens when all the well-dressed animals in town tell him to cover up?
$28.00
NZD
Category: Children's fiction | Series: Harry Potter | Reading Level: Children's - Grade 4-6, Age 9-11
'Give me Harry Potter, and I shall leave the school untouched. Give me Harry Potter, and you will be rewarded' Lord Voldemort Harry Potter is preparing to leave the Dursleys and Privet Drive for the last time. But the future that awaits him is full of danger, not only for him, but for anyone close to h im - and Harry has already lost so much. Only by destroying Voldemort's remaining Horcruxes can Harry free himself and overcome the Dark Lord's forces of evil. In this dramatic conclusion to the Harry Potter series, Harry must leave his most loyal friends behind, and in a final perilous journey find the strength and the will to face his terrifying destiny: a deadly confrontation that is his alone to fight.   ...Show more
$19.00
NZD
Category: Children's fiction | Series: Dog Man
Howl with laughter with Dog Man, the internationally bestselling series from Dav Pilkey, the creator of Captain Underpants! Petey the Cat is out of jail, and he has a brand-new lease on life. While Petey's reevaluated what matters most, Li'l Petey is struggling to find the good in the world. Can Petey a nd Dog Man stop fighting like cats and dogs long enough to put their paws together and work as a team? They need each other now more than ever -- Li'l Petey (and the world) is counting on them! Dav Pilkey's wildly popular Dog Man series appeals to readers of all ages and explores universally positive themes, including empathy, kindness, persistence, and the importance of being true to one's self.   ...Show more
$18.00
NZD
Category: Children's fiction
The exquisite and thought-provoking new book from the multi award-winning, internationally best-selling picture book creator of Lost and Found, Oliver Jeffers. Well, hello. And welcome to this Planet. We call it Earth. Our world can be a bewildering place, especially if you've only just got here. Your h ead will be filled with questions, so let's explore what makes our planet and how we live on it. From land and sky, to people and time, these notes can be your guide and start you on your journey. And you'll figure lots of things out for yourself. Just remember to leave notes for everyone else… Some things about our planet are pretty complicated, but things can be simple, too: you've just got to be kind. Here We Are is the utterly heartfelt new book from Oliver Jeffers. We're glad you found it. "An optimistic snapshot of contemporary life, this heartfelt hug of a book ought to become a classic" The Guardian   ...Show more
$17.00
NZD
Category: Children's fiction | Series: Marge | Reading Level: Children's - Grade 3-4, Age 8-9
The hilarious debut of actress and comedian Fisher ("Confessions of a Shopaholic, Wedding Crashers") introduces zany babysitter Marge in the first title of this new series that's ideal for fans of Amelia Bedelia and Mrs. Piggle Wiggle. Illustrations.
$20.00
NZD
Category: Children's fiction | Series: Harry the Dirty Dog | Reading Level: From 4 to 7
"Everyone thinks Harry looks lovely in his new knitted jacket covered in roses - except Harry! So Harry is on a mission to rid his back of those ridiculous roses...!"
$25.00
NZD
Category: Children's fiction
War destroyed their worlds, now two young girls and their remarkable horses are fighting once more - this time to win. When twelve-year-old Mira stumbles across a white stallion in a forest in Berlin, she doesn't realise that this horse will take her on an incredible journey. Together, they're going to ascend the starry heights of Grand Prix show jumping, and sweep back in time to Poland in 1939 where another young girl is risking everything to save the horse that she loves... Prince of Ponies is a story of courage and the will to win against all odds. ...Show more
$30.00
NZD
Category: Children's fiction
Sing your heart out this Christmas with a whole choir of characters, in the showstopping new picture book from number one bestselling author David Walliams, illustrated by the artistic genius, Tony Ross! There's more than one star of the show this Christmas... In fact, there's a whole choir of them! W arble the walrus LOVES to sing. Unfortunately, she is not very good at it! And when her atrocious warbling causes an avalanche, the other walruses leave her all alone. But when you SING like no-one is listening, SOMETIMES, they start to hear you... The perfect Christmas gift for anyone who loves to laugh or sing, this brand-new story from David Walliams is a delightfully wonderful warble about doing what makes you HAPPY, and being LOUD about it! ...Show more
$21.00
NZD
Category: Children's fiction | Series: Heroes of Olympus | Reading Level: 10+
Jason has a problem. He doesn't remember anything before waking up in a bus full of kids on a field trip. Apparently he has a girlfriend named Piper and a best friend named Leo. They're all students at a boarding school for "bad kids." What did Jason do to end up here? And where is here, exactly?   Pi per has a secret. Her father has been missing for three days, ever since she had that terrifying nightmare. Piper doesn't understand her dream, or why her boyfriend suddenly doesn't recognize her. When a freak storm hits, unleashing strange creatures and whisking her, Jason, and Leo away to someplace called Camp Half-Blood, she has a feeling she's going to find out.   Leo has a way with tools. When he sees his cabin at Camp Half-Blood, filled with power tools and machine parts, he feels right at home. But there's weird stuff, too--like the curse everyone keeps talking about. Weirdest of all, his bunkmates insist that each of them--including Leo--is related to a god.   Join new and old friends from Camp Half-Blood in this thrilling first book in The Heroes of Olympus series. ...Show more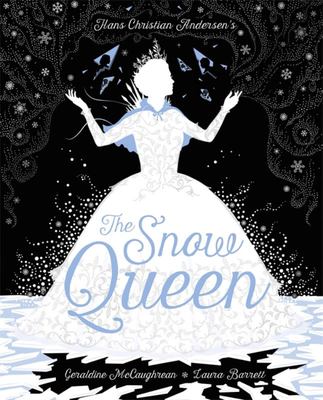 The Snow Queen
by Geraldine McCaughrean; Hans Christian Anderson
$30.00
NZD
Category: Children's fiction
An enchanting picture book retelling of The Snow Queen. A magical, wintery tale of friendship, love and adventure. Join Gerda on her epic journey to the mysterious, snowy lands of the frozen North. Meeting fairy-tale princesses, talking crows and wise old women with enchanted gardens, on her quest to r escue best friend Kai from the Snow Queen's icy palace. Hans Christian Andersen's classic tale has enchanted children for over 150 years. Retold by Carnegie Medal-winning author Geraldine McCaughrean, with stunningly intricate silhouette illustrations, this is a must-have addition to any child's bookshelf. ...Show more