$26.99
NZD
Category: Children and Young Adult
Millions of young readers have loved the World's Worst Children tales and revelled in the World's Worst Teachers with their delightfully dreadful deeds – now prepare for…THE WORLD'S WORST PARENTS! From the phenomenally bestselling David Walliams and illustrated in glorious colour by the artistic genius, Tony Ross. Are you ready to meet the worst parents ever? Sure, some parents are embarrassing – but they're NOTHING on this lot. These ten tales of the world's most spectacularly silly mums and deliriously daft dads will leave you rocking with laughter. Pinch your nose for Peter Pong, the dad with the stinkiest feet in the world… jump out of the way of Harriet Hurry, the fastest mum on two wheels… watch out for Monty Monopolize, the dad who takes all his kids' toys… and, oh no, it's Supermum! Brandishing a toilet brush and a mop, she's out to save the world! With a very special introduction said to be from David's own mum, these ten tales of the most madcap mums and deliciously daft dads will leave you rocking with laughter. ...Show more
$25.00
NZD
Category: Children Non-Fiction
Whether you're 5 years old or 65, it's never too late to get to know the feathered friends in your backyard, and learning their songs will open your eyes to a whole new world. Therefore this beautifully illustrated sound guide is the perfect way to introduce both children and adults to the wonders of bi rd song. Each of the 12 species covered Morepork, Kaka, Sacred Kingfisher, Grey Warbler, Silvereye, Bellbird, Tui, Fantail, Chaffinch, Song Thrush, Blackbird and Starling has a short description explaining some fascinating facts about that bird. Then the reader can press the relevant button on the panel on the side of the book and a short burst ofthe birds song will be played via the accompanying speaker. The book is aimed in particular at children, but is great fun for all the family and perfect for helping to foster an interest in the amazing wildlife that lives right alongside us in our homes. It's ideal for keeping on the windowsill overlooking the backyard. The species covered have been specially selected as ones that will occur in and around most backyards in the country, however big or small. If you need a reminder of the twittering and fluty song of the Tui, or the Chaffinch's cascade of notes, it is simply acase of pushing the button. All in all this is a perfect title for anyone, young or old, who enjoys the natural world and listening to the songs and calls of our familiar backyard birds. ...Show more
$21.00
NZD
Category: Picture books | Series: Harry the Dirty Dog | Reading Level: From 2 to 12
"Harry is a black and white dog who hates having a bath - so when he sees his owner with the dreaded bath, he runs away. But in the end, Harry gets so dirty that his owners dont recognise him and so he has to beg for the thing he used to dread so much so they let him back into the houshold."
$18.99
NZD
Category: Children's fiction
Across the Risen Sea is an action-packed, compelling and heartfelt middle-fiction adventure, set in a post-climate change landscape, from the multi-award winning author of How to Bee. 'It's one of them days when everything is off. A hot sweaty night in Rusty Bus means we kids is all grouchy-tired. Me a nd my best friend, Jaguar, is trying to cool down by taking turns at dipping in the sea pool. Him standing on the sea wall made from car frames and rocks on lookout for crocs, me swimming, then we'll swap places. We's always doing things as a team, him and me. We's gonna be the best fisher people and the best salvagers on the whole of the inland sea one day.' Neoma and Jag and their small community are 'living gentle lives' on high ground surrounded by the risen sea that has caused widespread devastation. When strangers from the Valley of the Sun arrive unannounced, the friends find themselves drawn into a web of secrecy and lies that endangers the way of life of their entire community. Soon daring, loyal Neoma must set off on a solo mission across the risen sea, determined to rescue her best friend and find the truth that will save her village.Across the Risen Sea is another thrilling adventure for young readers from the bestselling author of How to Bee and The Dog Runner. ...Show more
Slime
by David Walliams
$22.99
NZD
Category: Children's fiction
 Welcome to the Isle of Mulch! Home to a large number of awful adults who like nothing more than making children miserable. And the island is owned by the most awful one of all – Aunt Greta Greed! Something needs to be done about them. But who could be brave enough? Meet Ned! Ned has lived on Mulch all his life and whilst trying to get his own back on his trickster sister, Jemima, he discovers one of the great mysteries of the world – slime! What is it? Who is it? Where does it come from? And how does Ned use slimepower to take on the horrible grown-ups of Mulch? ...Show more
$40.00
NZD
Category: Childrens picture NZ
Over a thousand years ago, the wind, sea currents and stars brought people to the islands that became known as Aotearoa, the land of the long white cloud. Navigate your way through this sumptuously illustrated story of New Zealand. Explore the defining moments of our history, captured by celebrated chil dren's book creator Gavin Bishop, from the Big Bang right through to what might happen tomorrow. Discover Maori legends, layers of meaning and lesser-known facts. A truly special book, Aotearoa- The New Zealand Storydeserves a space on every bookshelf, to be taken off and pored over, thumbed and treasured, time and again. NZ Listener 50 Best Books for Kids 2017 The SaplingBest Books List 2017 ...Show more
$20.00
NZD
Category: Children's fiction
Baboon LOVES having his butt out! How cheeky! What happens when all the well-dressed animals in town tell him to cover up?
$28.00
NZD
Category: Children's fiction | Series: Harry Potter | Reading Level: Children's - Grade 4-6, Age 9-11
'Give me Harry Potter, and I shall leave the school untouched. Give me Harry Potter, and you will be rewarded' Lord Voldemort Harry Potter is preparing to leave the Dursleys and Privet Drive for the last time. But the future that awaits him is full of danger, not only for him, but for anyone close to h im - and Harry has already lost so much. Only by destroying Voldemort's remaining Horcruxes can Harry free himself and overcome the Dark Lord's forces of evil. In this dramatic conclusion to the Harry Potter series, Harry must leave his most loyal friends behind, and in a final perilous journey find the strength and the will to face his terrifying destiny: a deadly confrontation that is his alone to fight.   ...Show more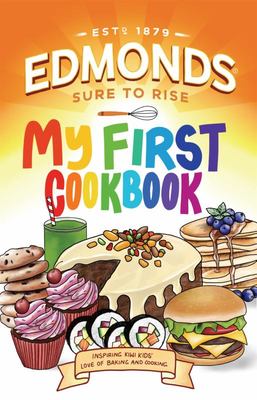 $25.00
NZD
Category: Children Non-Fiction | Reading Level: very good
Become the champion-pikelet-maker, an expert-afghan-baker or an award-winning-pizza-creator. With the iconic illustrated step-by-step layout of the original Edmonds Junior Cookbook, you'll find it super easy to learn to cook these classic New Zealand recipes. From breakfast through to dessert and all t he meals and snacks in between, this collection of over 90 recipes will be the beginning of a life long love of baking and cooking. ...Show more
$24.00
NZD
Category: Picture books | Reading Level: Children's - Grade 3-4, Age 8-9
Phizzwhizzing new cover look and branding for the World's NUMBER ONE Storyteller! Fantastic Mr Fox - the legendary tale of the most cunning fox in the world. Boggis is an enormously fat chicken farmer who only eats boiled chickens smothered in fat. Bunce is a duck-and-goose farmer whose dinner gives hi m a beastly temper. Bean is a turkey-and-apple farmer who only drinks gallons of strong cider. Mr Fox is so clever that every evening he creeps down into the valley and helps himself to food from the farms. Now the farmers have hatched a plan to BANG-BANG-BANG shoot Mr Fox dead. But, just when they think Mr Fox can't possibly escape, he makes a fantastic plan of his own . . . ...Show more
$19.00
NZD
Category: Children's fiction | Series: Dog Man
Howl with laughter with Dog Man, the internationally bestselling series from Dav Pilkey, the creator of Captain Underpants! Petey the Cat is out of jail, and he has a brand-new lease on life. While Petey's reevaluated what matters most, Li'l Petey is struggling to find the good in the world. Can Petey a nd Dog Man stop fighting like cats and dogs long enough to put their paws together and work as a team? They need each other now more than ever -- Li'l Petey (and the world) is counting on them! Dav Pilkey's wildly popular Dog Man series appeals to readers of all ages and explores universally positive themes, including empathy, kindness, persistence, and the importance of being true to one's self.   ...Show more
$18.00
NZD
Category: Children's fiction
The exquisite and thought-provoking new book from the multi award-winning, internationally best-selling picture book creator of Lost and Found, Oliver Jeffers. Well, hello. And welcome to this Planet. We call it Earth. Our world can be a bewildering place, especially if you've only just got here. Your h ead will be filled with questions, so let's explore what makes our planet and how we live on it. From land and sky, to people and time, these notes can be your guide and start you on your journey. And you'll figure lots of things out for yourself. Just remember to leave notes for everyone else… Some things about our planet are pretty complicated, but things can be simple, too: you've just got to be kind. Here We Are is the utterly heartfelt new book from Oliver Jeffers. We're glad you found it. "An optimistic snapshot of contemporary life, this heartfelt hug of a book ought to become a classic" The Guardian   ...Show more